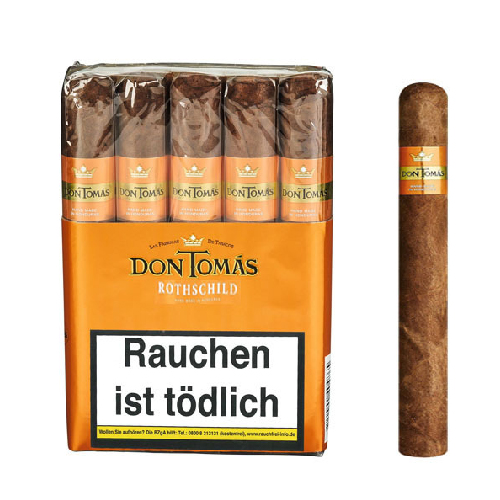 Don Tomas Honduras Rothschild Orange
Don Tomas are classic premium Honduran cigars that are rich in flavour and heritage. These affordable, well-made cigars have a natural, medium-bodied, well-balanced and creamy smooth draw, with aromas of sweet spice. Skilfully crafted by hand in the old world tradition from the most select tobacco leaves, Don Tomas has the reputation as one of the best values in the world of premium cigars today.
PerBox / 5 sticks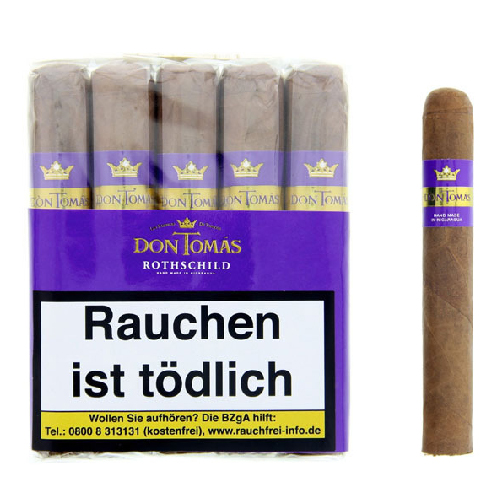 Don Tomas Nicaragua Rothchild Purple
Don Tomas Nicaragua Rothchilds are known for their high quality standards and are handcrafted in Esteli / Nicaragua by a manufacture of the Scandinavian Tobacco Group. The insert blend consists of two different Nicaraguan tobacco sorts. With a binder from Honduras and a wrapper from Nicaragua, you can expect a medium-strength, aromatic smoking pleasure at surprisingly low prices.
Individually wrapped in cellophane and bundled into ten cigars. Both the foil packaging and the belly band bear the bright purple coloring of this Nicaragua variant.
PerBox / 10 sticks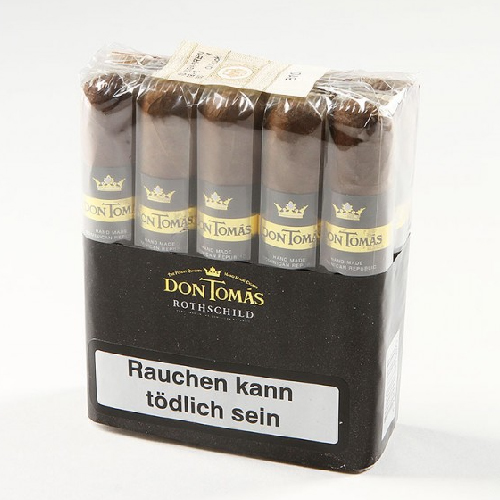 Don Tomas Rep Rothchild Black
The

Don Tomás Rothschild is an unusual Dominican cigar. Because although it is made in the Dominican Republic, only little Dominican tobacco is processed in it. This is located in the insert and is enriched with a little Mexican tobacco. The binder comes from Connecticut and the dark, slightly oily wrapper is a Sumatran seed from Ecuador. Even if at the low price you might think that there is not much aromatic to it, you will be taught better. Woody-earthy aromas, spicy leather and coffee aromas are complex in taste. Toasted notes are added to the finale. This medium-strength long filler with optimal drawing and burning properties can be enjoyed for a good three-quarters of an hour.
PerBox / 10 sticks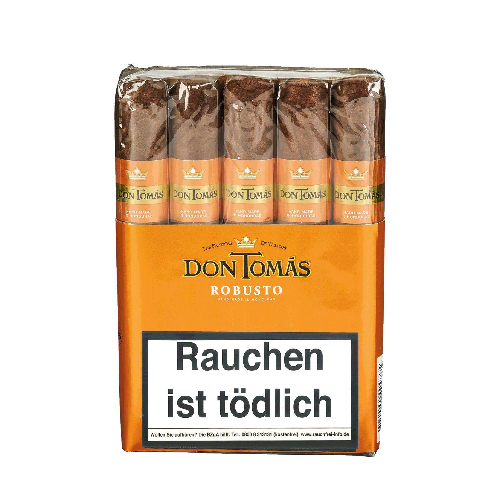 Don Tomas Honduras Robusto
Don Tomas Honduran Robustos Bundle Cigars come from the Honduran Danli, from the Honduras American Tabaco S.A. , a manufacturer of the Scandinavian Tobacco Group. With a mixture of Brazilian, Honduran and Nicaraguan tobacco, a binder from Honduras and the wrapper from Ecuador, you will experience an aromatic smoking pleasure with this cigar. The cigar with an orange/gold belly band are packed in five pieces with a cedar wood leaf in a cellophane sleeve and are available in various formats at an attractive price/performance ratio.
PerBox / 5 sticks