Plasencia Alma Del Campo Travesia Toro Extra 10's
The Plasencia Alma Del Campo Travesia is a medium-strength toro that captures the very essence of Nicaragua's rich fertile land. After all, "Alma Del Campo" is Spanish for soul of the field. A Nicaraguan puro from filler to wrapper, the Alma Del Campo is expertly hand crafted at the Plasencia Cigar factory in Nicaragua. A complex stick with a perfect balance, the Plasencia Alma Del Campo delivers warm notes of coffee and nuts with hints of spice that will soothe the mind and soul.
Length:165mm
Ring Gauge:54
Strength:Medium
Shape:Toro
PerBox / 10 sticks

Plasencia Cosecha 146 San Agustin Torpedo 10's
Named after the 146th crop grown by the Plasencia family since 1865, the Plasencia Cosecha 146 San Agustin Torpedo has a lot to be proud of. A textbook Honduran wrapper is expertly draped over a Nicaraguan binder and a hearty mix of Nicaraguan and Honduran fillers, giving this medium-bodied figurado a ton of flavor all while remaining incredibly smooth. Enjoy notes of earth, cedar, and cocoa throughout this premium smoke, and celebrate the legacy of one of the most respected families in the industry.
Length:158.75mm
Ring Gauge:52
Strength:Medium
Shape:Torpedo
PerBox / 10 sticks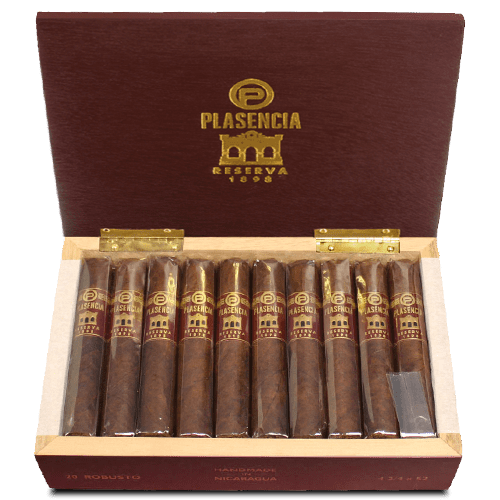 Plasencia Reserva 1898 Robusto 20's
The Plasencia Reserva 1898 series of cigars were launched in 2018 to commemorate the opening of family's Corojal Farm. The box of 20 Plasencia Reserva 1898 Robusto are 4 3/4″ by 52 ring gauge premium, aged, hand rolled Nicaraguan cigars. This cigar has a rich full tobacco flavour, creamy smooth with delicate hints of pepper and spice in the background. The exclusive dark oily corojo wrapper is the star of the show and helps the cigar to develop notes of chocolate, walnut, dried figs, cedar and leather as it is smoked. Medium in terms of its strength these cigars are some of the finest New World cigars being manufactured.
Length:120.65mm
Ring Gauge:52
Strength:Medium
Size:Robusto
PerBox / 20 sticks

Plasencia Reserva Original Toro 10's
As an agricultural engineer, Nestor Plasencia was one of the pioneers of organic tobacco growing in Esteli. All the tobacco used to make Plasencia Reserva Original cigars is organically grown using only natural fertilizers and no pesticides or other chemicals. The result is a perfectly constructed medium strength cigar with aroms of hazelnut, sweet caramel and a rich, creamy smoke. The Plasencia Reserva Original Toro cigar has a size of 152mm for a cepo of 50 with an excellent draw. The Plasencia Reserva Original range replaces the Plasencia Reserva Organica range of cigars.
Length:152mm
Diameter:19.68mm
Wrapper: Nicaragua
Strength: Medium
PerBox / 10 sticks


Plasencia Year of the OX 8's
Nice cigarillo that packs the flavors from its big brother the Serie D No.4 in a 10 minutes smoke. Medium to full body with lots of earthy and peppery notes. Premium tobacco quality from the Vuelta Abajo region, as every Partagas cigars. A great pick for cigarillos aficionados which like complex smokes and also for premium cigars enthusiasts.
Length:82mm
Ring Guage:20
Shape:Mini Panetela
PerOuter / 5 boxes
PerBox / 4 sticks