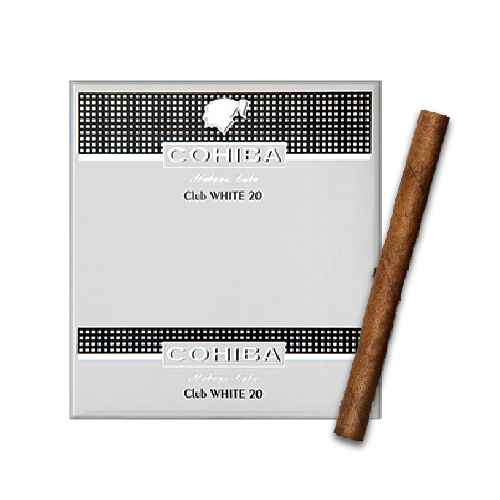 Cohiba Club White
Cohiba Club WHITE Cuban Cigars are a lighter blend than normal, however they are still expertly made from 100% fine Cubano leaf, ready cut with an easy draw, lovely aroma and taste.The leaves used for the Cohiba Club WHITE Cuban Cigars are taken from the same plants used for all premium hand made Cuban Cigars. These plants are grown in the Vuelta Abajo region , an area located west of the island, quite simply the finest tobacco growing area in the world. If you normally smoke the standard Cohiba Club you will find these just a little bit softer and more rounded. Smokers of Dutch & English style machine-made cigars will find they are a wonderful treat for birthdays or Christmas!




Length – 3.8"


Ring Gauge – 22
Strength – Medium
PerOuter / 5 boxes
PerBox / 20 sticks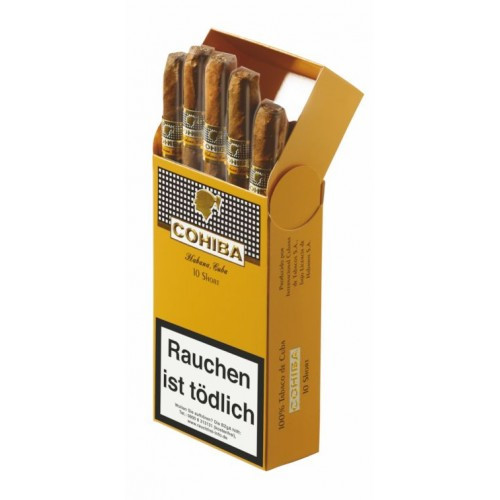 Cohiba Short 10`s
Cohiba Short concentrates all the aromas of a Cohiba in its small module. This box of ten cigars is made using the same premium quality Cuban tobacco leaves used in Cohiba's larger, hand-rolled varieties but with a much prettier Cohiba Shorts cigars are the width of a Purito but the length of a mini. This cigars have a strong, full flavor and powerful aroma. They burn so smoothly and really pack a punch if you don't have time for a long, drawn out smoke break.

Diameter: 10.32 mm
Length: 82 mm
Strength: Medium
Duration: 15 - 30 min
Aroma: Spicy
PerOuter / 10 boxes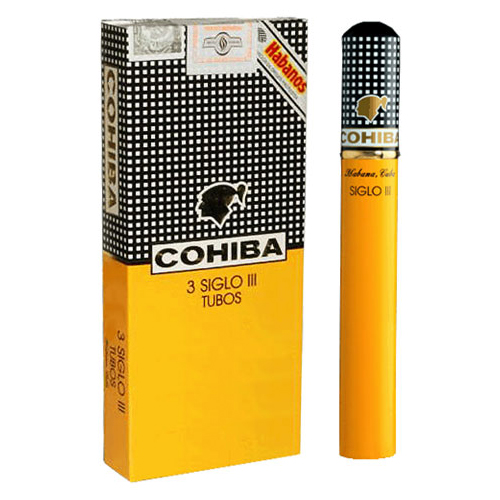 Cohiba Siglo III Tubos
The Siglo series are known to be milder than others from this famous Cuban brand, all of them very similar in taste, with mild creamy sweetness, medium bean flavours and medium tobacco taste. 155mm of smoking joy.
SIZE: 6 1/8 x 42
PerOuter / 5 boxes
PerBox / 3 sticks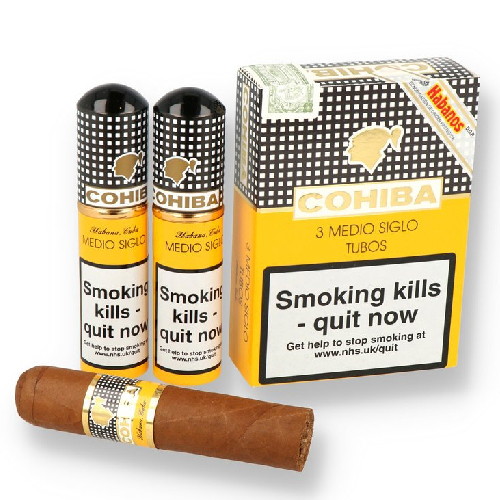 Cohiba Medio Siglo Tubos
The Cohiba Medio Siglo Tubo is a short and thick Cohiba, a unique Petit Robusto in their line-up, with 52 ring gauge, 4" (102mm) long and comes in a cardboard box with 15 cigars in aluminum tubes. Medium to Full strength, with beautiful woodsy, leathery and peppery flavors. Beautiful modern smoke that is great for a 30 minute break.
PerBox / 3 sticks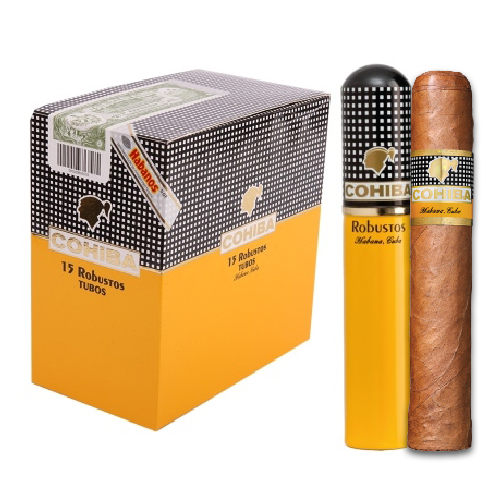 Cohiba Robusto Tubos 15's
The Cohiba Robustos are unique because they have a great construction, with colorado claro wrapper, with almost no veins and an awesome foot. Many view this robusto to be the best in the world due to its richness, complexity and strength. It is a true masterpiece thanks to Cohiba's unparalleled quality. Prepared with exquisite care, it has many common characters with his elder brother, the Esplendidos. Both a work of art and a delight to the palate. Very good burning with three well-defined parts, the first one with light flavors of grass and pepper, the second part with vanilla, and the third displays a strong tobacco flavor and chocolate tones with an undertone of barnyard.
PerOuter / 5 boxes
PerBox / 3 sticks